Phase 1: Jacquemus Brand Audit.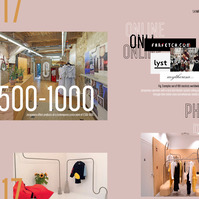 Phase 2: Rebranding of Jacquemus
The format of fashion week runway shows has been stuck for as long as one could possibly remember. And year after year, the entire presentation (from the handing out of invites to parties after) is being taken into greater account; getting altered to an almost faux-reality experience with avant-garde concepts and experimental garments. It is no longer simply about the previewing of clothes, but the translating of an idea or feeling for you to bring back after the show, a platform for designers to express their rigour of thought for the season.
As much as the format of runway presentation has always been the same, Jacquemus has a way of leaving their audiences in awe show after show, be it with the surrealistic set ups, flow of show or interesting selection of venue. Simon is clever in giving the audiences what they need but often do not expect, which is a narrative to bring back, a whimsical peek into the stringing of each collection.

From presenting his collection in an abandoned swimming pool and making everybody pull on blue plastic covers over their shoes, to walking down the runway with a white horse, Jacquemus has a way of injecting a fresh take on formal fashion presentations with a theatrical non-static twist. For his latest Menswear collection FW 19 Le Meunier, Simon had the models arrive in a white truck outside the Palais de Tokyo —as if arriving from the country—and, after a turn around the gallery, sat down to eat breakfast at a rustic table laden with bread, cheese, and coffee; and his latest female collection.

The playful non-static spontaneity had a typical jacquemus directness and charm to it, and acts as the first step to disrupt traditional formats. With that bold shift in direction of collection presentation methods, I would like to take it further by introducing the next part of my brief, which is to design a choreographed non-static interactive presentation. To bring freshness to the table, by further developing on Jacquemus's ever-improving runway experiences, with context to his latest collection Fall'19 Ready to wear: La collectionneuse.

Credits -
Photographer/Creative Director/Set designer/Stylist: Myself
Shoot Assistant: Veronica Siew Qi Rui
Model: Jasrun Kaur
Make-up artist: Lauren English
Jacquemus Fall'19 Ready-to-wear: Le Objets
Concept [Inspired by Simon's playful poking at the industry's never ending cycle of who's going and coming]: The playful mockery of humans of the 21st century. A non-static static show questioning the relationship between human beings and the obsession cultivated with the objects they own. Highlighting the concern they display towards objects exceeding that of the people around them. An insightful presentation on the importance of strengthening human relations and promoting transparency
Objective: One of the issues discovered throughout my body of work for the brand report is a lack of ethical and humanitarian standpoint from Jacquemus. Hence, using the element of storytelling to challenge societal issues.
Event Press –

For the longest of time, we've been doing it wrong, creating isolation amongst the living, as the stillness of objectified matter takes over. Alongside the appreciation of light, Jacquemus presents to you, Les Objets— a non-static static performance, consisting of 3 acts, emphasising on the importance of intimacy and connection forged between two beings.